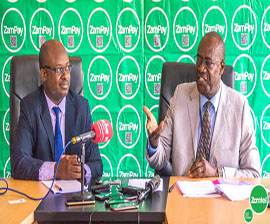 ZamPay integrates with Visa and MasterCard
Zamtel has fully integrated the ZamPay App with the Visa and MasterCard platforms.
ZamPay is an innovative payment solution which has brought a whole new meaning in the way transactions are done in Zambia.
It is an easy payment solution which only requires customers to scan a QR code using their mobile phones eliminating the need for customers to carry physical cash when playing for goods and services.
Zamtel Chief Executive Officer Sydney Mupeta announced that the integration is in line with the Government's vision of achieving a cashless society.
The integration was officially launched at Zamtel House on 29th April 2019 by the Bank of Zambia Deputy Governor-Operations Dr Bwalya Ng'andu.
The integration has come a week after launching the Number Neutral Capability Feature on ZamPay which allows customers from other networks to download the ZamPay App and enjoy the benefits of transacting by scanning a QR code using their mobile phones.
With the Visa and Master Card platforms on ZamPay customers will be able to electronically transfer money from their bank accounts to their ZamPay wallets.
"The integration of ZamPay with the Visa and MasterCard platforms is one innovation which will undoubtedly change the lifestyle of the Zambian people", Mr Mupeta said.
"As you are aware customers currently have to walk some distance to find the nearest retail outlet for them to credit their ZamPay accounts with e-value".
"This is not only inconveniencing but keeps the customers away from other productive activities", he continued. Mr Mupeta added that the integration will enable customers to electronically transfer money from their respective bank accounts onto the ZamPay e-wallet at the press of a button. "All this will be done from the comfort of their home, office or indeed any work station. The integration of ZamPay with Visa and MasterCard therefore marks a huge step in making ZamPay the preferred mode of payment in Zambia as it will give our customers a seamless mobile payment experience", he explained.
Mr Mupeta also took time to thank all the business houses that have already signed up as merchants on the innovative payment solution.
"Our integration with Visa and MasterCard reinforces our commitment to creating a seamless payment experience for their customers, as we continue to lead digital transformation in Zambia", he explained.
And according to the Bank of Zambia Deputy Governor - Operations, Zamtel's commitment to innovation that is seen in the new products that are being put out into the market is commendable.
"We would like to see you become, in your own space, champions in the provision of digital solutions in order to improve the experience of your customers and even more importantly to contribute to the achievement of our very ambitious financial inclusion targets that the Bank of Zambia and other financial sector regulators have set", Dr. Ng'andu said.
Dr. Ng'andu further said that the use of digital technology to access financial services has become an everyday feature that is beginning to define how we spend, send and save money.