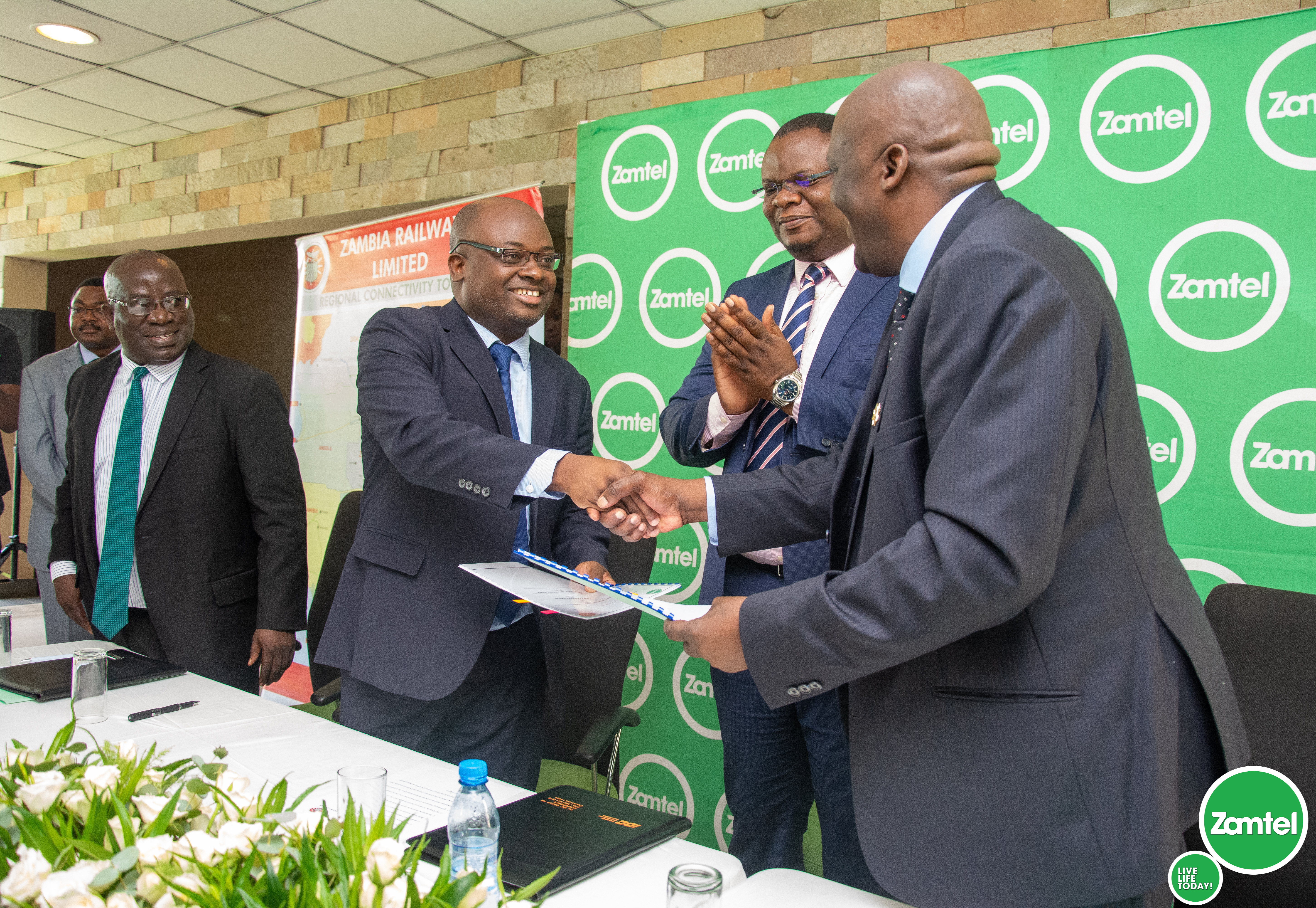 Zamtel and Zambia Railways sign deal to improve operations
Zamtel has signed a Memorandum of Understanding (MoU) with Zambia Railways (ZRL) to provide ZRL with Integrated Communication Solutions including voice and data.
The partnership shall run along the line of Rail from Chililabombwe to Livingstone and the Zamtel Network will be integrated with the Zambia Railways network.
Zamtel will further host ZRL's "094" number range on its Core Network to provide nationwide coverage on Data and Voice.
Zamtel will also offer ZRL digital solutions in an effort to improve efficiencies and service delivery for the organization and automate processes in areas such as Procurement, Human Resources and Administration, Finance, Stores Management, Railway Tracking and many other Faculties.
At the signing ceremony at Zamtel House, Zamtel Chief Executive Officer Sydney Mupeta said the MoU is the beginning of the partnership that will address communication needs for ZRL.
He also encouraged the public to support Zambian companies which would in turn contribute to economic growth.
And Zamtel Board Chairman Danny Luswili said the company has positioned itself as a prime driver of digital transformation.
Mr Luswili said the MoU presents an opportunity for companies under IDC to tap into Zamtel's strength and capabilities through digital transformation.
"To demonstrate this ability Zamtel has developed very good e-health platform to address challenges identified in the provision of health solutions. As you are aware sir, most administrative processes in our hospitals today are predominantly manual and this tends to delay the time in which patients are attended to by medical staff," Mr Luswili said.
Meanwhile, IDC Group CEO Mateyo Kaluba commended the two organizations who are both under the IDC Group for using synergies to improve their business efficiencies.
Mr Kaluba encouraged the 34 companies in the IDC portfolio to embrace business partnerships amongst each other as opposed to outsourcing services adding that there is no value in doing what other can do better for you.
"We have observed closely the transformation that has been going on at ZAMTEL, particularly the focus for digitization and to be a leader in the digital platform and this is something we support wholeheartedly," Mr Kaluba said.
And ZRL Chief Executive Musonda said the MoU has come at a right time as the company has embarked on the recapitalization and modernisation of its infrastructure.
Mr Musonda said the company is ready to embrace digital transformation in order to enhance service delivery.
About Zamtel
Zamtel is Zambia's only total communication solutions provider. Zamtel is 100 percent owned by the Zambian Government, providing voice, data, fixed, internet, MPLS and business continuity services to businesses and individual customers in Zambia. Zamtel is committed to make a difference and empower communities as part of its Corporate Social Responsibility.